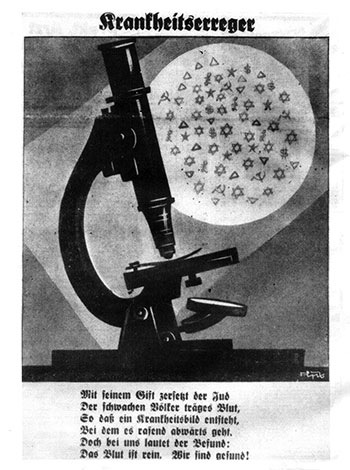 The microscope reveals symbols for the British pound and the American dollar, and for Jews, communists, and homosexuals (triangles).
The poem at the bottom reads:
Infectious Germs
With his poison, the Jew destroys
The sluggish blood of weaker peoples;
So that a diagnosis arises,
Of swift degeneration.
With us, however, the case is different:
The blood is pure; we are healthy!
(From Der Stürmer, April 15, 1943, p. 1.)
My rough count for each symbol: British pound (5), American dollar (5), Jews (28), communists (5 hammer/sickles and 2 stars), and homosexuals (15).
(Does that mean the Nazis' worst nightmare would be a gay Jewish capitalist?)
Sources:
The poem and image are from "Metaphors, Fantasy & the Social Construction of Reality" by Richard A. Koenigsberg.
The image is from Robert Proctor's Racial Hygiene: Medicine Under the Nazis.
Also:
An earlier post on "Dr. Franz Hamburger and the Nazi collectivizing of reproduction."
My fuller treatment of National Socialist medicine, sex, family, and eugenic policies is in Section 16 of Nietzsche and the Nazis.