"Nietzsche and the Nazis" update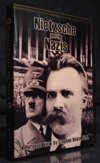 Since its 2006 publication, my 2:45-hour documentary on Nietzsche and the Nazis has been available from Amazon, Netflix, and other venues.
Beginning this summer, Netflix has made the documentary available via video-stream, which has led to a healthy uptick in feedback — including gratifying praise, interesting new angles, thoughtful disagreement — and a smattering of ad hominem and/or otherwise vituperative attacks from those whose interpretations of National Socialism or Nietzsche are very different than mine.
Probably par for the course when dealing with such weighty matters and polarizing political movements and philosophers.
This summer I have been turning the script into a manuscript (and am almost finished). The manuscript includes the footnotes for all the key quotations and assertions, along with a full bibliography. This will enable scholars and other interested thinkers to check everything for accuracy and to use it for other scholarly purposes.
The script and manuscript are in 38 sections [pdf of the scene selection menu]. The plan is to release the manuscript sections serially over the next few months, each section containing the text, relevant images, and being available in both HTML and PDF formats. When all of the sections of the manuscript have been released, a full version in PDF will also be made available.
Alongside that process, I will post in response to the many very good emails I've been receiving from those who have watched the documentary. By far, the most email I've been receiving focuses on the two most controversial interpretive points in the documentary:

1. On the Nazis: I argue that they were socialists and anti-capitalist. .
.
2. On Nietzsche: I argue that he is an individualist only in a very limited sense and that he is much more a collectivist than he is an individualist. .
Those two theses have generated the most heat, so in near-future blog posts I will take up two important issues:
Were the Nazis really socialists?
and
Was Nietzsche an individualist or a collectivist?
If those issues interest you, please sharpen your debating skills, brush up on your history and philosophy, and prepare for some serious intellectual fun.
[Go to the Nietzsche and the Nazis page. Go to the StephenHicks.org main page.]