Modernity's declining violence
"A common misconception often quoted by media, politicians, activists is that violence is on the rise and has historically been much lower. Similarly, the trend in post-colonial anthropology has been to regard historically indigenous and tribal societies as more peaceful than contemporary Western society.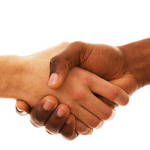 However, archaeological evidence shows that previous societies had very high level of violence. Likewise, modern tribal societies typically too have extremely high rates of violence, with more than half of deaths being violence related in some cases. Ancient and medieval empires had lower rates of violence, and the violence decreased further as empires became more organized. Modern societies saw still lower rates of violence from the medieval period onwards, with significant decreases after World War II. This trend is general across all categories of violence, from large-scale warfare to murder and animal cruelty, and the trend is discernible on both millennium, century and decade scale, making modern societies the most peaceful the world has even seen." (Source and references here.)
Take that, shades of Jean-Jacques Rousseau and Karl Marx. And props to the Capitalist Peace and Democratic Peace theses. We are making progress.