Quiz flashcards for Explaining Postmodernism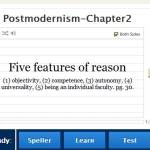 At Quizlet, someone has created study cards for my Explaining Postmodernism. Here, for example, are the flash cards for Chapter 2 on Kant, reason, structuralism, Hegel, and so on.
Neat.
May they be helpful to those students in various universities reading it this academic year as a textbook.