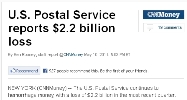 First, the government monopoly:
CNN Money reports that the "U.S. Postal Service reports $2.2 billion loss" in the first quarter of 2011 and expects to lose lots more.
Second, two private market companies: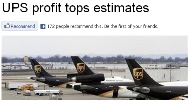 Reuters reports that United Parcel Service's "profit tops estimates" but, sadly, that FedEx's profits "fell 3 percent to $231 million."
One question and one comment.
The question: Why does the USPS still have a government monopoly on first class mail and various other subsidies and immunities?
The comment: Much business regulation is driven by fears that free markets lead to monopolies that will gouge consumers. Yet it is very difficult to find actual historical examples of big successful free-market companies that have behaved that way.
So my usual test of the seriousness of those who voice the fear of monopolies is to raise the USPS example — an actual monopoly that has wasted tens of billions of dollars over the decades. Does the afraid-of-monopoly person favor the immediate ending of the USPS?
Surprisingly often, the afraid-of-monopoly people are willing to give the USPS a pass. That response signals to me that they are not really anti-monopoly as much as anti-market. Their fear of possible market monopolies is greater than their fear of actual government monopolies. They worry very much that Intel or Microsoft or the National Football League will start gouging consumers, so they support vigilant antitrust monitoring and prosecution of those companies. But they feel little concern about the USPS and various monopoly public utilities and are content to let them be.
In my judgment, we shouldn't be worrying about companies in a free market that have earned a large market share — their earned market share means they are doing something we consumers like and, consequently, we are voluntarily rewarding them for it. We should be worrying about companies and entities that get their position through government favoritism — their market position is based on special privileges and coercion, and, not coincidentally, as the USPS example shows, they are typically inefficient.