Evo Morales, Pope Francis, and Friedrich Nietzsche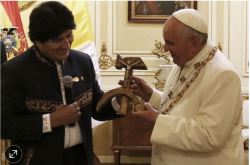 This image (click to enlarge) was taken during a state visit between socialist president Evo Morales of Bolivia and leftish pope Francis of the Vatican. The gift is a crucifix affixed to a sickle and hammer.
I'm reminded of these words from my Nietzsche and the Nazis (2010), about the philosopher on Christianity and socialism:
"The Judeo-Christian tradition says this is a world of sin, in which the weak suffer at the hands of the strong; that we should all be selfless and serve God and others, especially the sick and helpless; and that in a future ideal world
— heaven — the lion will lay down with lamb, and the inescapable power of God will bring salvation to the meek and judgment to the wicked.
"The Marxist socialist tradition says this is a world of evil exploitation, in which the strong take advantage of the weak. But we should all be selfless and sacrifice for the good of others, especially the needy — 'From each according to his ability, to each according to his need' — and that the forces of history will necessarily bring about a future ideal world ending all harsh competition, empowering the oppressed and eliminating the evil exploiters."
Source: Nietzsche and the Nazis (Ockham's Razor, 2010), Section 23, p. 55.