Links for "13 arguments for liberal capitalism in 13 minutes"
For my "13 Arguments for Liberal Capitalism in 13 Minutes (more or less)", here are direct links for each individual argument:
1. Liberal capitalism increases freedom.
2. People work harder in liberal capitalist systems.
3. People work smarter under liberal capitalism.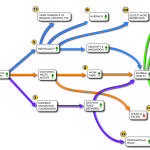 4. Liberalism increases individuality and creativity.
5. Liberal capitalism increases the average standard of living.
6. The poor are better off under liberal capitalism.
7. Liberal capitalism generates more philanthropy.
8. More outstanding individuals flourish under liberal capitalism.
9. Liberalism's individualism increases happiness.
10. Liberal capitalist societies are more interesting.
11. Tolerance increases under liberal capitalism.
12. Sexism and racism decrease under capitalism.
13. Liberal capitalism leads to international peace.
And here is the full playlist at YouTube.