You should be forced to buy this book
Aspiring philosopher-queen Sarah O. Conly is an assistant professor of philosophy at Bowdoin College.
A description of her Against Autonomy: Justifying Coercive Paternalism, published by Cambridge University Press in 2012: "Against Autonomy is a defense of paternalistic laws; that is, laws that make you do things, or prevent you from doing things, for your own good.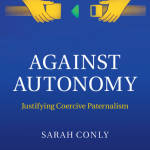 I argue that autonomy, or the freedom to act in accordance with your own decisions, is overrated—that the common high evaluation of the importance of autonomy is based on a belief that we are much more rational than we actually are. We now have lots of evidence from psychology and behavioral economics that we are often very bad at choosing effective means to our ends. In such cases, we need the help of others—and in particular, of government regulation—to keep us from going wrong."
Rumor has it that contrarian paternalists disagree violently, arguing that Conly should have been prevented by force from writing the book.
Conly's faculty page indicates that her next book will be about the goodness of using force to prevent people from having the wrong number of children.
Related: Autonomy as a human need.
(Thanks to R.H., who knows what's best for me, for sending the Conly link.)