Reason Papers: my review of America the Philosophical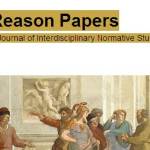 My short, unhappy review [pdf] of Carlin Romano's America the Philosophical (A.A. Knopf, 2012) is now out in the latest issue of Reason Papers.
The issue as a whole [pdf] also features a timely symposium of seven scholars on Sari Nusseibeh's What Is a Palestinian State Worth?, several independent essays, and ten reviews of recent books, including John Allison's The Financial Crisis and the Free Market Cure, Ralf Bader and John Meadowcroft's The Cambridge Companion to Nozick's Anarchy, State, and Utopia, and Timothy Sandefur's The Right to Earn a Living.
Reason Papers' editors Carrie-Ann Biondi and Irfan Khawaja deserve kudos for putting out such a lively issue.