Previous Post:
Joseph Priestley's significance
&nbsp Next Post:
Musical experience — intriguing example
One more thing to thank the Enlightenment for.
I'm reading a biography of Rossini. Gioachino was born into a musical family in February 1792 (two months after the death of Mozart),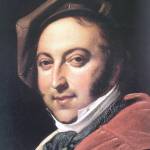 but his family always struggled financially.
In the music world of the 1700s, the castrati had reached the height of their popularity due to the quality of their voices. "In the 1720s and 1730s, at the height of the craze for these voices, it has been estimated that upwards of 4,000 boys were castrated annually in the service of art. Many came from poor homes and were castrated by their parents in the hope that their child might be successful and lift them from poverty."[1]
In his later years Rossini described the castrati this way: "I have never forgotten them. The purity, the miraculous flexibility of those voices and, above all, their profoundly penetrating accent — all that moved and fascinated my more than I can tell."[2]
But it had been a close call for the boy Gioachino. Biographer Richard Osborne says that "his maternal uncle … had suggested that the boy be castrated on the ground that the majority of operatic castrati live in great opulence."[3]
What to do, what to do?
Enlightenment humanism had led to a significant decline in castrations for musical purposes,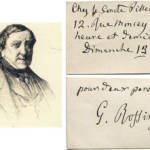 and the practice had been made illegal in part of northern Italy by the 1790s (though it was not illegal in all of Italy until the unification of 1870).
But, reported Rossini later, his mother put her foot down and "would not consent at any price."
So Gioachino avoided the knife and instead of becoming a singer went on to write Semiramide, William Tell, The Barber of Seville, and other classics.
Good choice, Signora Rossini. Thank you.
Sources:
[1] Castrato. Wikipedia.
[2] and [3] Richard Osborne, Rossini (Oxford University Press, 2007), pp. 13 and 14.
Tags: Francesco Maria Guidarini, Gioachino Rossini, Richard Osborne, The Barber of Seville