Previous Post:
Libraries discriminate against the blind
&nbsp Next Post:
Are Austrian economists anti-empirical?
I was struck by this philosophical economist's connecting the Aristotelian solution to the so-called naturalistic fallacy to the question of the value of money.
"This approach hints at the fact that a key element in this work is the treatment given to questions surrounding the 'naturalistic fallacy.'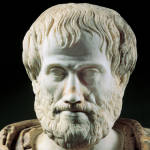 The basic reasoning here is that in regard to the specific needs of proper human life, or any life for that matter, there are some instruments of teleological value and, therefore, in regard to living beings it is possible to avoid a naturalistic fallacy, since what they 'are' is already impregnated with values about what is proper for them, about what they 'ought' to be. In the same way, that exception to the fallacy of deriving an 'ought' from an 'is' applies to what is instrumental to living beings to realize their potential. In society as we know it, money is one of those things that is instrumental for living a proper human life."
Source: Leonidas Zelmanovitz, Fundamentos Filosoficos de las Instituciones Monetarias, doctoral disssertation at Universidad Rey Juan Carlos, Madrid, Spain, director Dr. Gabriel Calzada Álvarez, 2010/2011, p. 31.
Tags: Aristotelianism, Gabriel Calzada Álvarez, Leonidas Zelmanovitz, naturalistic fallacy, value of money