Kaizen 20 — the Jay Lapeyre interview
Entrepreneurial Resilience in New Orleans
Hurricanes, oil spills, and Louisiana politics —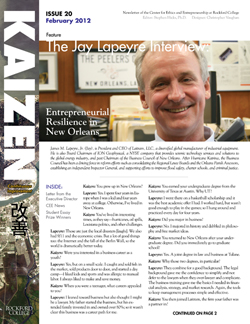 the latest issue of Kaizen features my interview with entrepreneur Jay Lapeyre, CEO of The Laitram Corporation.
I met with Lapeyre in New Orleans to discuss natural disasters and corrupt politics, leadership, and the state of American manufacturing in our global economy.
Also featured in this issue of Kaizen [pdf] are student essay contest winners Amina Seitahunova, Amanda Nicosia, and Danielle Taylor, and guest speakers Alexei Marcoux and Phyllis Johnson.
Print copies of Kaizen are in the mail to CEE's supporters and are available at Rockford College.
More Kaizen interviews with leading entrepreneurs are at my site here or CEE's site.