Elizabeth Warren and the doulos
Elizabeth Warren's recent remarks offer a striking glimpse into a prominent strain of American political thought. Warren is a Harvard law professor and U.S. Senate candidate, and she has been a White House presidential assistant. An excerpt:
"There is nobody in this country who got rich on his own. Nobody.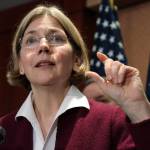 "You built a factory out there? Good for you. But I want to be clear: you moved your goods to market on the roads the rest of us paid for; you hired workers the rest of us paid to educate; you were safe in your factory because of police forces and fire forces that the rest of us paid for. You didn't have to worry that marauding bands would come and seize everything at your factory, and hire someone to protect against this, because of the work the rest of us did.
"Now look, you built a factory and it turned into something terrific, or a great idea? God bless. Keep a big hunk of it. But part of the underlying social contract is you take a hunk of that and pay forward for the next kid who comes along."
What gives this argument rhetorical force is its appeal to a principle of economic justice: You should pay for the benefits you get from others. Don't be a freeloader. Warren combines that principle with a list of benefits an imagined factory builder has received from others to get the implicit conclusion and policy recommendation: The factory builder has unpaid debts that justify increased taxation.
Five observations and questions:
1. On the seriousness of the economic justice claim: If we're to conclude that the factory owner (let's call her Jill) has unpaid debts, are we to (a) estimate how much benefit Jill the factory builder has received from others, (b) determine how much she has paid for those benefits (since presumably she paid her employees, truckers, and taxes), so that (c) we can determine whether she has paid too much, too little, or the right amount? Are we to make that serious accounting effort, or is this argument meant to generate an unspecified debt claim and a blank check for politicians and the IRS to fill in as they judge best?
2. On the transfer of debt: Warren points out that, for example, many of the factory's employees were educated in government schools. The government has taxed its citizens and used that money to educate, say, Jack. Interestingly, Warren does not say that Jack now has a debt to society that he should pay. Instead, the debt seems to shift to Jill when she hires Jack. How does that work?
3. On disingenuous application: Warren targets her argument only against the prosperous. Yet middle and low income people also receive the same benefits as the factory builder—they use the roads, enjoy police and fire protection, use the services of those educated in public schools, and so on. Why is Warren not also hectoring middle and low income people for apparently violating the social contract?
4. On the compatibility of the economic justice principle with the rest of Warren's political philosophy: Warren here suggests strongly that Jill the factory builder has freeloaded on unpaid benefits from the rest of society and that justice requires that she pay for what she received from others. Does Warren therefore favor abolishing the welfare state? I rather doubt it. So we end up in an odd position: Those who live on or profit from government welfare get a pass in Warren's system, while those who build factories are considered freeloaders.
5. On the doulos and a historical echo: In Plato's Crito (50d), Socrates argues that he has no right to escape from prison, even if he is innocent. Socrates imagines himself in conversation with the Laws of the State and has the Laws say to him, '"In the first place did we not bring you into existence? Your father married your mother by our aid and begat you. Say whether you have any objection to urge against those of us who regulate marriage?" None, I [Socrates] should reply. "Or against those of us who regulate the system of nurture and education of children in which you were trained? Were not the laws, who have the charge of this, right in commanding your father to train you in music and gymnastic?" Right, I should reply.'
Socrates has agreed that the State made possible his existence and upbringing. Consequently, he is in debt to the State, as the Laws go on to conclude forcefully:
"Well, then, since you were brought into the world and nurtured and educated by us, can you deny in the first place that you are our child and slave, as your fathers were before you?"
"Doulos: In ancient Greece, a slave (δοῦλος)." In the above translation of Plato's text, doulos is translated as either child or slave. Thus we have an argument for paternalism and slavery: Socrates, his ancestors, and presumably his descendants, are creatures and chattels of the State.
Is Warren's position that different?
Perhaps hers is not meant as a serious argument, though, and only as red meat thrown to the "Tax the rich!" political base. But what if Warren is serious?