Previous Post:
Talk at Free Minds / Atlas Society seminar
&nbsp Next Post:
Do conservatives value economic liberty?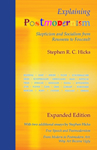 The Kindle version of the new, Expanded Edition of my Explaining Postmodernism: Skepticism and Socialism from Rousseau to Foucault is now available. The hardcover will be out next month.
The expanded edition also includes my Free Speech and Postmodernism and From Modern to Postmodern Art: Why Art Became Ugly essay. Images of the art works discussed and referred to in the latter essay are available at a dedicated page at my website here.
More on the Expanded Edition here.
Tags: Free Speech and Postmodernism, Jacques Derrida, Michel Foucault, modern art, postmodern art, Richard Rorty