Previous Post:
"Egoism in Nietzsche and Rand" now online
&nbsp Next Post:
Kirzner to speak at Beloit
Greater Buenos Aires has a population of around 13 million. How do they all get to work, school, and visiting grandmother in the old neighborhood? Many drive, but here's an an interesting tidbit about its unique mix of private and public transportation: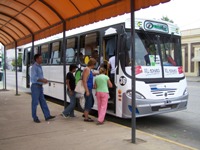 "There are over 150 city bus lines called Colectivos, each one managed by an individual company. These compete with each other, and attract exceptionally high use with virtually no public financial support. Their frequency makes them equal to the underground systems of other cities, but buses cover a far wider area than the underground system. Colectivos in Buenos Aires do not have a fixed timetable, but run from 4 to several per hour, depending on the bus line and time of the day. With very cheap tickets and extensive routes, usually no further than four blocks from commuters' residences, the colectivo is the most popular mode of transport around the city" (Wikipedia).
By contrast, many U.S. city governments continue to experiment with top-down, politically-enforced, and economically wasteful public transportation systems. Here is John Catoe, the general manager of the Washington, D.C., Metro system:
"One thing that it is important to understand though is that the fares only pay a portion of the operating budget. This year, about 53%. If you add the money we earn from advertising and other sources, we cover about 60% of the cost. In fact no transit agency in the country makes a profit or breaks even. The rest comes from the local governments that partner with Metro." [Emphasis added.]
Another example is Houston, which is in the midst of a heated debate about whether to expand or contract its currently troubled government-run system.
Time to take a lesson from the Argentines?
Meanwhile, I'm in the area for this fun event and to interview a highly-entrepreneurial Argentine for an upcoming issue of Kaizen.
Tags: Buenos Aires, bus systems, colectivos, Houston Metro, Metropolitan Transit Authority, private versus public transportation, Washington Metro