Bridge over the Colorado River
From Popular Science's "Looking Back at the 100 Best Innovations of 2009." I love the drama of this photo of a bridge being constructed over the Colorado River: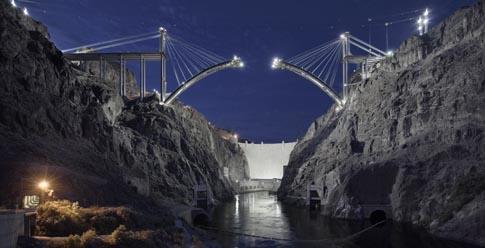 You can almost feel the drive of the bridge's arch sections to meet and complete themselves. It struck me as analogous to the energy flow between God's and Adam's hands in Michelangelo's Creation of Man.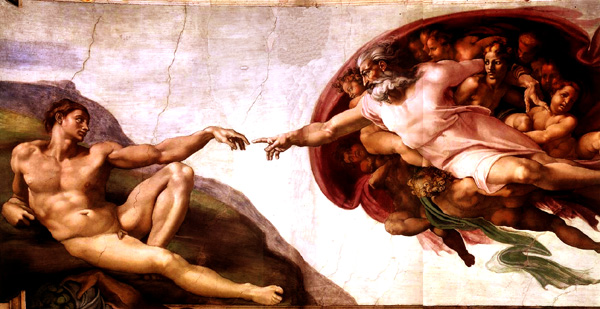 Creators indeed.
Here's the description of the bridge at Popular Science:
"Temperatures upward of 115°F, winds capable of felling cranes, an 890-foot drop below: 'Inhospitable' doesn't begin to describe conditions at the Colorado River's new Mike O'Callaghan–Pat Tillman Memorial Bridge.
"A 1,900-foot span designed to divert traffic from the narrow, switchback-laden road across the Hoover Dam, it will be the longest concrete arch bridge in the Western Hemisphere when it opens next fall, with 106 segments of ultra-high-strength concrete forming a twin-rib arch. Workers scaled the canyon's walls, digging notches for concrete foundation columns. To construct the 1,060-foot-long arch, they cast 24 feet of concrete at a time, while a separate, temporary cable-stayed bridge held up the unfinished ends until the gap was closed this year."
For more wonderful, dramatic, and just plain interesting innovations from 2009 in Security, Health, Entertainment, Auto Tech, Computing, Building Technology, and more, visit Popular Science's feature.