Why life in America is 40 times better than in 1900
A follow up to my post on Why life is 255 times better now than in 1800.
Some warm-up indicators: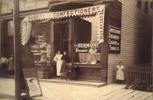 By 1900 the U.S. had recently become the wealthiest economy in the world, slightly surpassing Australia and Great Britain, and it had become twice as wealthy as France and Germany and four times as wealthy as Japan and Mexico, which were then roughly equal.
Percentage of American homes that had electricity: 3
Percentage that had running water: approximately 33
Percentage that had flush toilets: 15
Percentage of infants who died in before age one: 14 (today the percentage is less than 1)
Percentage of students who completed high school: 7
Percentage of men over 65 working full time: over 67 (and the average work week was over 60 hours and 6 days)
But to get to the serious math:

Wealth: Per capita income in 1900 was around $5000, while now it is over five times that amount.
Population: The total U.S. population in 1900 was 76 million people, about one quarter of the current population of of a little over 300 million.
Life expectancy: In 1900 it was 47.3. Currently it is 78.1 or so. So if one is an adult by, say, age 16, the average amount of adult life rose from 31 years in 1820 to 62 years now — a factor of 2.
So people now have 5 times more income; they have 2 times as much time to enjoy it; and there are 4 times as many people.
5 x 2 x 4 = 40.