Four articles from the 1989 debate sparked by federal funding for works by Robert Mapplethorpe and Andres Serrano.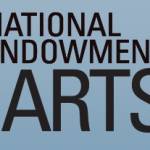 * Jesse Helms, "Amendment 420: The NEA Should Not Fund Obscenity" [pdf].
* Robert Hughes, "A Loony Parody of Cultural Democracy" [pdf].
* Robert Samuelson, "Highbrow Pork Barrel" [pdf].
* Steven Durland, "Censorship, Multiculturalism, and Symbols" [pdf].
All four articles in one file [pdf].
Also available at my Texts in Philosophy page.