The opening of my latest column at EveryJoe:
"Microaggression theory could be seen as a sign of progress. The luxury of obsessing over tiny hints of racism or sexism implies that the problem of macroaggressions has been solved.
"If your environment — to draw a parallel — is dirty and unhealthy, then you focus on the big messes first. Only when those are cleaned up will you consider bringing out the microscope to look for dirt in tiny nooks and crannies.
"Trigger theory, as discussed in this article's first half, wants us to put first the needs of hyper-sensitive individuals who could be damaged further by hearing certain words or phrases. Microaggression theory goes on the offensive against the speaking of certain words or phrases, on the ground that they betray unconscious racism, sexism, or some other unsavory -ism.
"Of course there is an ideological agenda at work, and it is enabled by some heavy-duty theory …" [Read more here.]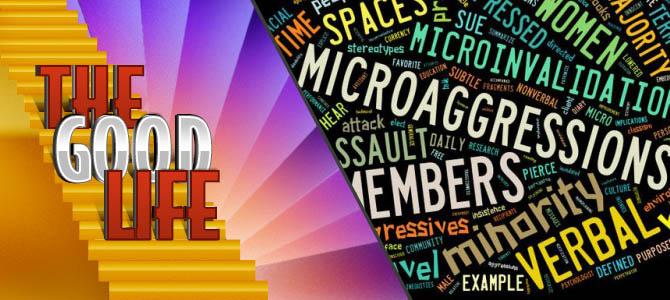 Previous column in The Good Life series: Understanding Triggers and Microaggression as Strategy (Part 1).