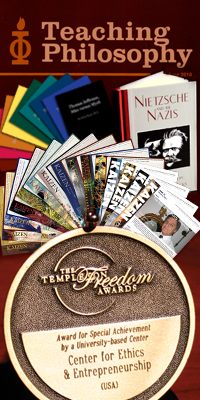 Readers of this site know that in addition to my philosophy professorship I am the Executive Director of the Center for Ethics and Entrepreneurship. We have launched a fundraising campaign for our 2012 activities.
We are proud of what we have accomplished in our first four academic years — new courses on entrepreneurship, business ethics, and free markets, 19 issues of our Kaizen newsletter with its extended interviews with leading entrepreneurs, and our Templeton Freedom Award for excellent program development.
So please see CEE's Annual Report and consider supporting the Center's continued activities.
Our hardworking staff and I have more in the works, but good education is expensive, and we would be pleased to have your support.