For Week 12 in my Western Civ course: The Battle against Slavery and Serfdom.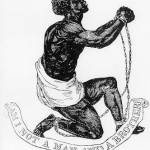 Previous files in the series:
1. Introduction.
2. The Renaissance Context.
3. England to the Glorious Revolution.
4. Justice and Modernizing the Law.
5. From Feudal to Modern Business and Economics.
6. The American Enlightenment.
7. The Battle for Women's Liberty and Equality.
8. The Enlightenment.
9. The Enlightenment in France.
10. The French Revolution.
11. Romanticism.
Also available at my Courses page.