My review of Allan Gotthelf and James G. Lennox's Concepts and Their Role in Knowledge: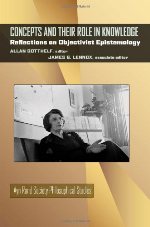 Reflections on Objectivist Epistemology (University of Pittsburgh Press, 2013) is now out in Notre Dame Philosophical Reviews.
Gotthelf and Lennox jointly edited the volume and provided essays of their own. The other contributors are Benjamin Bayer, Jim Bogen, Bill Brewer, Richard Burian, Onkar Ghate, Paul Griffiths, Pierre LeMorvan, and Gregory Salmieri.
The review's opening: "The most important issue in modern philosophy is the relationship between consciousness and reality. Allan Gotthelf and James Lennox have collected a highly-competent set of essays …"