How did Beethoven become Beethoven?
"The 'personality' of such a man as Beethoven is a slowly developed synthetic whole. It is formed by the gradual combination of its constituent elements into an organic unity. For the development of a personality a rich and profound inner life is necessary, and for that reason it is usually only great artists and religious teachers who impress us as being complete persons.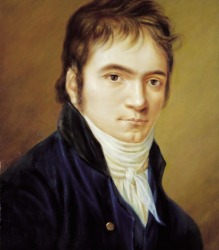 Amongst the elements constitutive of Beethoven's personality we must include his lack of malleability. This quality made him almost immune from purely external influences. Thus he was impervious to criticism; his manners were atrocious; he ignored conventions; he was permanently subject to no social passions, not even sexual love. The low standard of education he achieved seems to have been as much due to his lack of plasticity as to his lack of opportunities. He was not an educable man. He accepted none of the schemes of thought or conduct current in his time; it is doubtful whether he was even fully aware of their existence. He remained utterly faithful to his own experience. It is for this reason that his affirmative utterances, as in the Credo of the Mass in D, have such unexampled weight. Such utterances spring solely from his own personal and tested experience."
Source: J. W. N. Sullivan, Beethoven: His Spiritual Development (Alfred A. Knopf, 1927), p. 44. A rough e-pub version is online here. (Parts of Sullivan's description of Beethoven read like a description of Howard Roark in The Fountainhead. Sullivan's book was published in 1927 and Rand's in 1943.)
Related:
Creative geniuses as selfish — Rachmaninoff version.
Creative geniuses as selfish — Richard Wagner version.
Creative geniuses as selfish — Maria Callas version.
How great artists became great (Beethoven and Michelangelo).