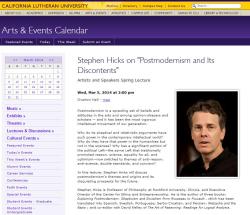 On March 5, I'll be speaking at California Lutheran University in Thousand Oaks. My topic is "Postmodernism and Its Discontents."
The talk is billed as the Artists and Speakers Spring Lecture and is open to the public.
Many thanks to Professor Nathan Tierney of CLU's Department of Philosophy for arranging the invitation. More information at CLU's site.