An intriguing remark by the musician Shostakovich about life under Stalin, and why so many mediocrities rose to cultural prominence under the Soviets:
"Fiction triumphed because a man has no significance in a totalitarian state. The only thing that matters is the inexorable movement of the state mechanism. A mechanism needs only cogs. Stalin used to call all of us cogs. One cog does not differ from another, and cogs can easily replace one another. You can pick one out and say, 'From this day you will be a genius cog,' and everyone else will consider it a genius. It doesn't matter at all whether it is or not. Anyone can become a genius on the orders of the leader."[1]
Reminds me of Ellsworth Toohey's strategy of promoting non-entities like Peter Keating and Lois Cook. The me-too mentality of those who want to be in the club — certain journalists, critics, socialites —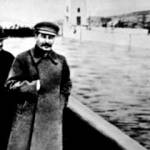 will join the chorus in celebrating the new artistic "genius." Thus a self-reinforcing culture of the middling is born.
Meanwhile, those with real talent are marginalized, the newly-anointed "geniuses" know to whom they are indebted for their celebrity, the hangers-on obsequiously play along, and the cultural leader consolidates his power. Ruling a herd of mediocrities is much easier than ruling independent individuals.
Sources:
[1] Testimony: The Memoirs of Dmitri Shostakovich, as related to and edited by Solomon Volkov. Translated by Antonina W. Bouis. New York: Harper and Row, 1979, pp. 211-212.
The photos, via Wikipedia, show Stalin with a group of followers, one of whom was disappeared, both from life by execution and from the historical record by photographic manipulation. What the leader giveth, the leader can taketh away.
Posted 2 days, 10 hours ago at 7:55 am. 2 comments