Thomas de Quincey in Explaining Postmodernism
The poet Thomas de Quincey said:
"Here I pause for one moment to exhort the reader never to pay any attention to his understanding when it stands in opposition to any other faculty of his mind. The mere understanding, however useful and indispensable, is the meanest faculty in the human mind, and the most to be distrusted; and yet the great majority of people trust to nothing else—which may do for ordinary life, but not for philosophical purposes."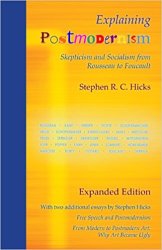 For more on the meaning and implications of de Quincey's remark for the intellectual climate that gave rise to postmodernism, see pp. 76-77 of my Explaining Postmodernism: Skepticism from Rousseau to Foucault.
Information about other editions and translations is available at this dedicated page.