New printing of *Explaining Postmodernism* — the fifteenth
A new printing of the expanded edition was published this month in a snazzy hardcover. Its theme:
"The failure of epistemology made postmodernism possible. The failure of socialism made postmodernism necessary."
This is the fifteenth printing since its first publication in 2004.
Samples from the scholarly reviewers of the first edition:
"By the end of Explaining Postmodernism, the reader may remain ill at ease with postmodernist malaise, but Hicks's lucid account will demystify the subject." Curtis Hancock, Ph.D., Review of Metaphysics
"With clarity, concision, and an engaging style, Hicks exposes the historical roots and philosophical assumptions of the postmodernist phenomenon. More than that, he raises key questions about the legacy of postmodernism and its implications for our intellectual attitudes and cultural life." Steven M. Sanders, Ph.D., Reason Papers
"Refreshingly, Hicks does not take it as given that the poststructuralist viewpoints have been demonstrated to be in error. Rather, he seeks to trace them to a powerful ressentiment directed against the partisan of the Enlightenment and of capitalist achievement, and to provide the Enlightenment thinker with openings for serious intellectual engagement." Marcus Verhaegh, Ph.D., The Independent Review
"This is not a book review but a flat out endorsement. Stephen R. C. Hicks' Explaining Postmodernism is a great but very scary read." Tibor R. Machan, Ph.D., Hoiles Chair of Philosophy, Chapman University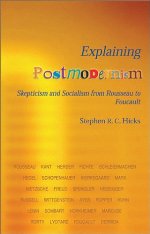 "Stephen Hicks has written an insightful and biting commentary on the nature of postmodernism and its revolt against the Enlightenment. He situates the movement in a larger historical context and analyzes its cultural and political implications. Even when one disagrees with Hicks' interpretations, his work will challenge and provoke. This is must-reading for anyone interested in philosophy-by-essentials." Chris Matthew Sciabarra, Ph.D., Department of Politics, New York University
"Explaining Postmodernism is extremely valuable for understanding postmodernism from a standpoint outside of and critical of it. Perhaps the most important value of the work is Professor Hicks's analytical skill in isolating the essential theses of postmodern writers, in summarizing the relevant historical background, and in tracing the lines of development that led to postmodernism. In addition to wonderfully clear expositions of Hegel, Heidegger, and other influential thinkers, the book has what I think is a brilliant analysis of the different pathways by which skeptical questions that Enlightenment thinkers asked about reason led to the nihilism of Derrida and Foucault." David Kelley, Ph.D., Senior Fellow, The Objectivist Center
"Explaining Postmodernism offers a concise and convincing argument that post-modernism is not primarily about epistemology. If postmodernism were about science as a 'hegemonic discourse,' then postmodernists would endorse any political viewpoint that tickled their subjectivities. Yet every postmodernist is on the Left politically. Hicks concludes that relativism is not what motivates postmodern thought—but is a device that postmodernists have adopted for strategic purposes. Explaining Postmodernism will be of value to anyone who seeks to understand where postmodernism originated, what impulses motivate it, and how it can be challenged." Robert Campbell, Ph.D., Department of Psychology, Clemson University
"Stephen Hicks has written a very fine book, one that reveals both the historical roots and the current strategies of postmodernism. He has helped to reduce the puzzlement of those of us who have wondered how the truly amazing form of madness called postmodernism has managed to take over the minds of people who in other ways seem both sane and intelligent. Buy two copies and give one to a postmodernist acquaintance. It will ruin his week." Max Hocutt, Ph.D., The Journal of Ayn Rand Studies
The expanded edition also includes my Free Speech and Postmodernism and From Modern to Postmodern Art: Why Art Became Ugly essay. Here's the Amazon link. Information about other editions and translations is available at a dedicated page at my website here.