The Pope's softness on Cuba, Bolivia, and Venezuela
The Pope continues to be rather silent about the disaster in Venezuela.
Why?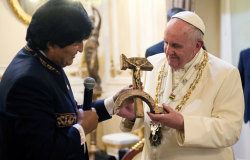 Here a supporter of Pope offers his best gloss of the Pope's underwhelming response to socialist-dictatorship Venezuela. Earlier the Pope had a nice visit to socialist Bolivia. And before that a gentle visit to communist-dictatorship Cuba.
But Pope Francis does goes out of his way recently to attack liberal-libertarian individualism in very strong language. Argentinean María Marty and I comment in English here and in Spanish here.