Wendy McElroy's *Rape Culture Hysteria*
I started reading McElroy's new book, Rape Culture Hysteria: Fixing the Damage Done to Men and Women.
As I began, here were the questions on my mind:
1. Are rape rates at universities increasing, declining, or flat?
2. Are the rates higher on campuses than in the rest of the USA?
3. How often do rapes go unreported?
4. How frequent are false accusations of rape?
5. How frequent are cases like that of Brock Turner, who received a very light sentence for rape?
6. How often do universities follow due process internally in sexual assault cases, and how often do they properly turn over to the police the investigation of serious crimes such as rape?
7. What does saying there's a rape culture mean? That the prevailing attitude among most people is one of toleration of rape? Or of tacit acceptance of rape? Or even of explicit endorsement of rape?
8. Is it more accurate that there may be rape sub-cultures in some universities?
9. Or is it true to say there are no cultures or subcultures of rape, only too many individuals who choose to be rapists?
The last question speaks to a major theme in McElroy's book — the philosophical framing of the investigations and arguments. Awhile ago I posted a chart contrasting liberal and gender versions of feminism, with material drawn from McElroy's Sexual Correctness. In this newer book, McElroy focuses on individualist versus PC feminism and the collision of philosophies embodied in individualism and political correctness.
Side note: I sometimes wonder if feminism is a useful label anymore. Feminism has generically meant a concern for achieving proper status for women, but the debated positions go by labels such as socialist feminism, radical feminism, gender feminism, liberal feminism, Marxist feminism, separatist feminism, Chicana feminism, postmodern feminism, trans-feminism, post-colonial feminism, and so on. The interesting and important debates always seem to be about the adjectives and not the noun.
But that may be part of the problem McElroy wants us to attend to — that the real agenda too often is not actually feminism but rather about using it as a vehicle to advance philosophies that end up being both anti-woman and anti-man.
McElroy quotes from an anonymous poster:
Four years ago, I was raped.
I didn't ask for it. I didn't want it. I didn't deserve it.
I also, however, didn't blame society.
I blamed the man who raped me.
The 'Patriarchy' did not assault me.
'Rape culture' did not slip sleeping pills into my drink.
One man did.
And he did it not because he was taught to.
Not because society said he should.
He raped me because he is a bad person and we should not be
holding everyone accountable for bad people.
Don't let rapists go free of responsibility by saying their choices are
made for them by society.
Bad people do bad things.
Don't let them trick you into thinking that we are all to blame.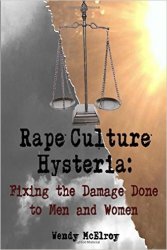 Related:
Campus Sex and the Anti-Sexiness of the New Authoritarians.
When Can Professors Have Sex With Their Students?
Update: María Blanco has this post on McElroy and the rape culture debates.