Krause's 2016 index of institutional quality
Last month I linked to the 2015 edition of "INSTITUTIONAL QUALITY 2015" [pdf], which ranks 193 countries in three categories: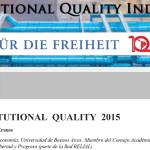 Institutional Quality, Political Institutions, Market Institutions.
Here is the new 2016 edition, in Spanish and English.
Martín Krause is Professor of Economics and the University of Buenos Aires and a specialist in law and economics and institutional economics.
For those interested in the performance of North and South American nations, those continents' nations are also separated for focused analysis and comparison.
(See my related article, "Comparing North and Latin American Economic Performance" in English, Spanish, or Portuguese.)
Other important, comparable indices are Index of Economic Freedom, Economic Freedom of the World, and DoingBusiness.org.