Kant and socialism, according to Cassirer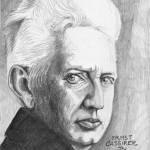 Ernst Cassirer (1874-1945) was a leading neo-Kantian philosopher. He trained under Hermann Cohen (1842–1918), a founder and leader of the Marburg school of neo-Kantianism, which was perhaps the most dominant school of philosophy in the German academic world in the 19th century.
Here is Cassirer's assessment of why Kant matters to the history of socialism:
"Within the movement of German neo-Kantianism the close connection between Kantian ethics and socialism was strongly emphasized by Hermann Cohen and Paul Natorp [1854–1924]. They pointed out that socialism was a necessary consequence of the Kantian categorical imperative and that the socialist movement was essentially a moral movement whose philosophic basis is best expressed in the Kantian moral philosophy."
Source:
Ernst Cassirer, "Kant, Immanuel," in Seligman and Johnson, Encyclopedia of the Social Sciences (MacMillan, 1932, volume 8), p. 541.
Related:
Mussolini and Kant on war and the sacrifice of individuals.
Friedrich Engels against liberal peace.
Was Kant an Enlightenment liberal?