Heidegger on the Führer Principle
Heidegger on the Führer Principle:
"Only where leader and led together bind each other in one destiny, and fight for the realization of one idea, does true order grow. Then spiritual superiority and freedom respond in the form of deep dedication of all powers to the people, to the state, in the form of the most rigid training, as commitment, resistance, solitude, and love. Then the existence and the superiority of the Führer sink down into being, into the soul of the people and thus bind it authentically and passionately to the task. And when the people feel this dedication, they will let themselves be led into struggle, and they will want and love the struggle. They will develop and persist in their strength, be true and sacrifice themselves. With each new moment the Führer and the people will be bound more closely, in order to realize the essence of their state, that is their Being; growing together, they will oppose the two threatening forces, death and the devil, that is, impermanence and the falling away from one's own essence, with their meaningful, historical Being and Will."[1]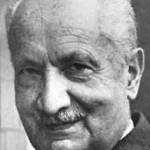 Yikes. Relevant to the question of the depth of Heidegger's Nazism.
Source:
Emmanuel Faye, Heidegger: The Introduction of Nazism into Philosophy in Light of the Unpublished Seminars of 1933-1935 (Yale, 2009), p. 140, italics in the original.