On the difference between theists and atheists
My friend Albert Loan of Universidad Francisco Marroquín recently quoted from Damon Linker's review ("Memo to atheists: God's not dead yet") of theologian David Bentley Hart's recent book.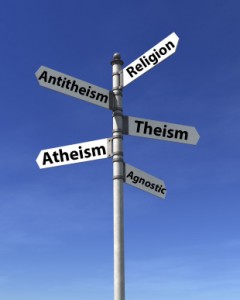 The quotation: "The deeper reason why theism can't be rejected, according to Hart, is that every pursuit of truth, every attempt to be good, every longing for beauty presupposes the existence of some idea of truth, goodness, and beauty from which these particular instances are derived. And these transcendental ideas unite in the classical concept of God, who simply is truth, goodness, and beauty. That's why, although it isn't necessary to believe in God in some explicit way in order to be good, it certainly is the case (in Hart's words) 'that to seek the good is already to believe in God, whether one wishes to do so or not.'"
The second sentence in the above is the key one. It claims that truth, goodness, and beauty are "transcendental ideas," that is, not natural or based in the physical world. That is, the argument for theism starts with skepticism about the natural world as a source of truth, goodness, or beauty.
This has long seemed to me to be the deepest divide between the thoughtfully religious and the thoughtfully non-religious: the atheist is optimistic about finding value in the natural world, while the theist is pessimistic about that possibility and seeks it outside the natural world.
The difference can be phrased in emotionalist terms: the person who does not become religious feels the natural world to be valuable in itself, while the religious person feels the natural world to be lacking or deficient in a deep way and so seeks value beyond it.
Comments?