Dr. Franz Hamburger and the Nazi collectivizing of reproduction
"National-Socialism and Medicine" is Hamburger's address to the German medical profession. The University of Vienna professor outlines
the philosophical basis for the Nazis' collectivizing medicine, sex, and family life.
Three passages caught my attention.
1. The importance of religion to National Socialist medicine: "we scientists and doctors simply and soberly affirm the principle of strength of faith and the nationalist socialist principle of Positive Christianity." And: "We doctors must never forget the fact that the soul rules the body. Soul forces are the most important. The spirit builds the body."
2. In keeping with the generalized Nazi distrust of reason, Hamburger compares favorably the unthinking and trusting Aryan patient to the questioning Jewish patient: "we always meet the desire for a diagnosis placed first by the over-intellectualized Jewish patient. But that is not the case with most Aryan patients. They, from the first, come to meet the doctor with more trust. They do not entertain as many after-thoughts. And I cannot help but remark that after-thoughts are hardly conducive to right results."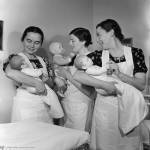 3. The altruistic duty to have large families: "It has been estimated that every couple should have four children if the nation's population is to be maintained. But we meet already the facile and complacent expression of young married people, 'Now we have our four children and so have fulfilled our obligations'—What superficiality! Today we must demand a much higher moral attitude from the wife than previously. Earlier it was taken for granted that a woman would bear a child every one or two years. But today in this time of manifold amenities of life, at a time when women is not denied access to these joys it is understandable that she is eager to participate in them. Add to this that the knowledge of birth control is general today. Despite all this women must be encouraged to give birth during twenty years of married life to eight or ten and even more children, and to renounce the above-mentioned joys of life.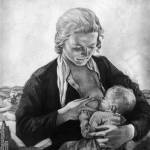 She must decide as a mother of children to lead a life full of sacrifices, devotion, and unselfishness. It is only when these ethical demands are fulfilled by a large number of worthy wives of good stock that the future of the German nation will be assured."
To summarize: reproduction is a duty ("obligations") to the collective ("the nation's population is to be maintained"), and it must be performed altruistically ("renounce," "sacrifice," "unselfishness"). Unthinking trust in authority (e.g., of patients to doctors) is good. And that, according to Hamburger, is the positive, spiritual essence of religion.
The Nazis were able to draw upon a philosophical history in which the summary paragraph's italicized concepts had cultural power. Nothing Hamburger said was especially controversial in 1930s Germany.
Sources: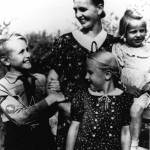 Franz Hamburger, "National-Socialism and Medicine." Address by Dr. Hamburger to the German Medical Profession. Translated from Wiener Klinische Wochenschrift, 1939, No. 6. Readings on Fascism and National Socialism. Edited by Alan Swallow and other members of the Department of Philosophy, University of Colorado.
The image of Hamburger is as a member of a student fraternity at the University of Heidelberg. The three images of motherhood are taken from the "Children of Nazi Germany" site.
My treatment of National Socialist medicine, sex, family, and eugenic policies is in Section 16 of Nietzsche and the Nazis.
Related: Collectivizing sex — Alexandra Kollontai's communist version.
"The population evils of capitalism."