Tennessee Williams on the death penalty
This post lists 71 interesting facts about Tennessee Williams, in honor of the 71 years of his life.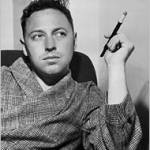 Item 19 is: "I don't believe in individual guilt. I don't think people are responsible for what they do. We are products of circumstances that determine what we do. That's why I think capital punishment's an outrage."
Williams was a playwright and not a logician, but still: If people aren't responsible for what they do, then that includes those administering capital punishment. So if one is a determinist, then it makes no sense to be outraged by capital punishment. One has to believe that circumstances lead some people to be murderers and rapists and others to be executioners.
Of course one can reply that circumstances have conditioned one to be outraged by the death penalty, but one would also have to grant equal status to those conditioned to be in favor of it.
The general point: Environmental determinism undercuts any value judgments.
Side note: Item 53 says that Anton Chekhov was a major influence on Williams, Chekhov being "a literary sensibility to which I felt a very close affinity." That makes sense, given that Williams represents a further position on the spectrum of human pessimism and despair. I'm reminded of Professor Nina Baym's summary of Williams's work: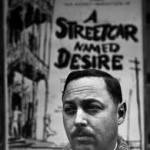 "We are less concerned over contemporary criticisms of Williams's plays for their violence and their obsession with sexuality, which in some of the later work was regarded by some critics as an almost morbid preoccupation with 'perversion' — murder, rape, drugs, incest, nymphomania. We now know that the shriller voices making such accusations were attacking Williams for his homosexuality, which, we must remember, could not be publicly spoken of in this country until comparatively recently. These topics, however, also figure as instances of his deeper subject, the themes of desire and loneliness. As he said in an interview, 'Desire is rooted in a longing for companionship, a release from the loneliness that haunts every individual.' Loneliness and desire propel his characters into extreme behavior, no doubt, but such behavior literally dramatizes the plight that Williams saw as universal." (Nina Baym et al. eds., The Norton Anthology of American Literature, 3rd edition, 1989, p. 2148.)
Note the descriptors of Williams's universe: violence, obsession, morbid, perversion, murder, rape, drugs, incest, nymphomania, loneliness, plight, and so on.