Bertrand Russell's pacifism in the face of Nazism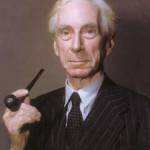 A new (to me) anecdote about philosopher Bertrand Russell's opinion that the world would be better off with a Nazi victory. As reported by Richard Jencks, who was one of Russell's students at UCLA in 1940:
"The British philosopher Bertrand Russell, who had been jailed in World War I for his pacifism by a government of which Churchill was a minister, is considering whether he should abandon those pacifist beliefs if Britain faces imminent invasion. He does not think that passive resistance would work against Hitler. These considerations do not prevent Russell from confiding to his philosophy students at the University of California in Los Angeles (this writer among them) that world peace, in the long run, will probably be better served by Hitler's victory. World peace, Russell posits, cannot be had without world government. Over the long years ahead, he says, civilizing influences will operate to soften the bestial edges of Nazi rule."
How does one makes that consequentialist calculation? Is it like this:
Scenario 1: If the Nazis win, there will be many deaths from war and bestial Nazi government. But if they win, the Nazi will establish a world government; and if there is a world government, there will be no more war. Meanwhile, civilizing forces will lessen the harms done by the Nazi world government. Total death and human damage account: X.
Scenario 2: If the Nazis lose, there will have been many deaths from that war but bestial Nazi damage will cease. However, many different nations will still exist, and they will exist contentiously, so there will continue to be wars. Total death and human damage account: Y.
Russell thinks X < Y. I have no idea how to assign numbers here. I wonder whether Russell did. Also: Are those the only two scenarios? I don't think so. The continued existence of many states is in principle compatible with peace, as long as we continue to make progress in teaching about individual rights and that we should make trades not war — the so-called democratic peace and capitalist peace hypotheses.
So: Can we assign some Russellian numbers to the above two scenarios? And are there other plausible scenarios we should consider?
Source: Richard W. Jencks, "Why Capitol Hill Needs a Churchill Reminder," The Wall Street Journal, May 10, 2013. Viewed May 26, 2013.
Related:
Friedrich Engels against liberal peace.
Is commerce rendering war obsolete?