Hayek on intellectuals and the Nazis
This week in my Contemporary European Philosophy course, we are reading Friedrich Hayek's The Road to Serfdom, published in 1944 at the height of World War 2.
"It is a common mistake to regard National Socialism as a mere revolt against reason, an irrational movement without intellectual background. If that were so, the movement would be much less dangerous than it is. But nothing could be further from the truth or more misleading. The doctrines of National Socialism are the culmination of a long revolution of thought, a process in which thinkers who have had great influence far beyond the confines of Germany have taken part. Whatever one may think of the premises from which they started, it cannot be denied that the men who produced the new doctrines were powerful writers who left the impress of their ideas on the whole of European thought. Their system was developed with ruthless consistency. Once one accepts the premises from which it starts, there is no escape from its logic. It is simply collectivism freed from all traces of an individualist tradition which might hamper its realization." (p. 167)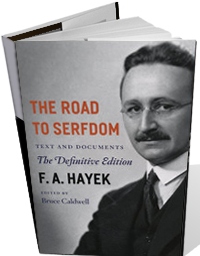 Which thinkers and powerful writers does Hayek have in mind? He has named Hegel, Marx, and Nietzsche as the major 19th-century influencers. But isn't it too much to expect politicians to read philosophers? Did Hitler actually read Hegel and Nietzsche? Perhaps. (Though we know that Dr. Goebbels was well read in them and a great admirer of Marx.)
So of great importance were the transitional thinkers of the generation from 1900 to 1933, the year the Nazis came to power. In Chapter 12, "The Socialist Roots of Naziism," Hayek devotes a few paragraphs each to Werner Sombart, Johann Plenge, Friedrich Nauman, Paul Lensch, Moeller van den Bruck, and Oswald Spengler. All of them were steeped in combinations of Hegel, Marx, and Nietzsche, and all of them were socialists; but their value-added (so to speak) was as public intellectuals and as intellectual activists who applied the abstract theories to the particular German context.
National Socialism, then, as Hayek reads it, resulted from over a century of intellectual and development: Germany's brightest minds developed the theory and laid the cultural groundwork for the Nazi political transformation.
Related:
Quotations on Nazi socialism and fascism [pdf], which is Appendix 2 of Nietzsche and the Nazis.