Friedrich Nietzsche on the necessity of war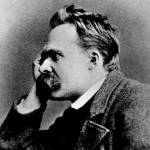 One of the themes in my Contemporary European Philosophy course is the vast gulf between the Continental and Anglo-American traditions over the desirability of war and peace. Relevant to that discussion are these quotations from Nietzsche on war:
Why war is necessary:
"War essential. It is vain rhapsodizing and sentimentality to continue to expect much (even more, to expect a very great deal) from mankind, once it has learned not to wage war. For the time being, we know of no other means to imbue exhausted peoples, as strongly and surely as every great war does, with that raw energy of the battleground, that deep impersonal hatred, that murderous coldbloodedness with a good conscience, that communal, organized ardor in destroying the enemy, that proud indifference to great losses, to one's own existence and to that of one's friends, that muted, earthquakelike convulsion of the soul." (HAH, 477)
For Nietzsche, this follows from the nature of life in general: "Here one must think profoundly to the very basis and resist all sentimental weakness: life itself is essentially appropriation, injury, conquest of the strange and weak, suppression, severity, obtrusion of peculiar forms, incorporation and at the least, putting it mildest, exploitation." (BGE, 259)
A historical claim: "The beginnings of everything great on earth [are] soaked in blood thoroughly and for a long time." (GM, II:6)
So for future great things, Nietzsche calls for:
"a conqueror- and master-race which, organized for war and with the force to organize unhesitatingly lays its terrible claws upon a populace perhaps tremendously superior in numbers but still formless and wandering." (GM , II:17)
Metaphorically in Zarathustra: "All-too-many live, and all-too-long they hang on their branches. Would that a storm came to shake all this worm-eaten rot from the tree!" (Z, "Of Free Death")
To prepare oneself: "One must learn from war … one must learn to sacrifice many and to take one's cause seriously enough not to spare men." (WP, 982)
And predictive of coming times:
"I welcome all signs that a more virile, warlike age is about to begin, which will restore honor to courage above all. For this age shall prepare the way for one yet higher, and it shall gather the strength that this higher age will require one day—the age that will carry heroism into the search for knowledge and that will wage wars for the sake of ideas and their consequences." (GS, 283)
Sources: As above and excerpted from Nietzsche and the Nazis.