The two Americas: 13 countries' GDP
I've started reading Guillermo M. Yeatts's 2010 Plunder in Latin America. Yeatts lists thirteen American countries' per capita GDP in 2008 US dollars, first alphabetically by country:
Argentina 8,281
Bolivia 1,948
Brazil 8,379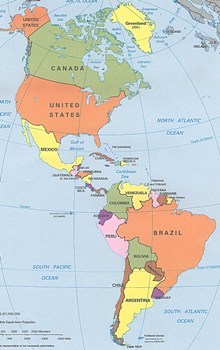 Canada 46,826
Chile 10,933
Colombia 5,478
Cuba 4,840
Ecuador 3,770
Mexico 10,278
Peru 4,454
Uruguay 8,942
USA 46,647
Venezuela 4,315
I re-arranged them by GDP from highest to lowest:
Canada 46,826
USA 46,647
Chile 10,933
Mexico 10,278
Uruguay 8,942
Brazil 8,379
Argentina 8,281
Colombia 5,478
Cuba 4,840
Peru 4,454
Venezuela 4,315
Ecuador 3,770
Bolivia 1,948
What a range. The two North American countries in the middle 40s. Five countries in the 8-10 range. Another five in the 3-5 range, and one around 2.
Yeatts raises the natural question: Why are the North American countries spectacularly more prosperous than the Latin American countries? Both are well endowed with natural resources, he points out, so that can be ruled out as the explanation. Several early hypotheses for our consideration:
* Religious differences: The majority of North Americans are Protestant and the majority of Latin Americans are Catholic.
* Colonial motivation: The Spanish colonists of Latin America were motivated primarily by extracting gold and silver and the earliest British colonists of North America were motivated by the desire to practice their religion freely.
* Philosophical: The North Americans adopted a Lockean view of the priority of individual rights over the power of government, while the Latin Americans accepted the Rousseauian priority of democratic majoritarianism over individual rights.
Along the way Yeatts introduces Douglass North's institutional theory and James Buchanan's Public Choice theory for further discussion, and that makes sense.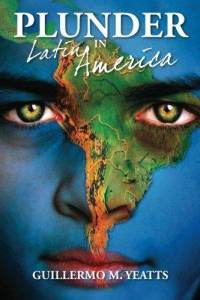 Whatever the full explanation turns out to be for the difference between North and Latin America, the differences within Latin America are also important. Why are Mexico, Brazil, and Argentina on average twice as wealthy as Venezuela, Cuba, and Peru? And why are the latter three nations on average twice as rich as Bolivia?
Source: Guillermo M. Yeatts, Plunder in Latin America (CreateSpace, 2010) p. 3. The data are from 2008.
Related:
* On J. H. Elliott's 2006 Empires of the Atlantic World: Britain and Spain in America 1492-1830 (Yale University Press). Elliott's explanatory hypothesis: Spain's empire in America was an "empire of conquest" while Britain's was an "empire of commerce" (p. xv). Though Brazil was originally a Portuguese colony, so some additional connections need to be made.
* Comparing Buenos Aires and Chicago over the 20th century: Economists Filipe Campante and Edward Glaeser on two initially very similar cities with divergent paths over the 20th century.
* Argentina, Hong Kong, and the psychology of belief: Resource-poor Hong Kong's relatively laissez-faire free market has taken it from poverty to riches. Resource-rich Argentina's experiments in statism have taken it from prosperity to decline and semi-functionality.
* Crank economics and astrology in Bolivia: Ugghh.