Professor Arielle John to speak at Rockford College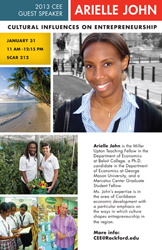 On January 31, Professor Arielle John will speak on "How culture influences entrepreneurial decision-making." Professor John is a native of Trinidad and a Ph.D. candidate in economics from George Mason University. She currently teaches in the Department of Economics at Beloit College, Wisconsin.
Contact Virginia Murr at CEE@Rockford.edu for details about time and location.