Marx's 10-point plan 50% realized in USA
The ten-point list from The Communist Manifesto, with my rough quantification: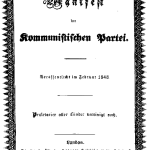 1. Abolition of property in land and application of all rents of land to public purposes.
[Partial check: property taxes, zoning laws, the federal government alone owns 30% of all land in the USA. .6 points.]
2. A heavy progressive or graduated income tax.
[Check. 1 point.]
3. Abolition of all rights of inheritance.
[Partial check: inheritance tax rates range from 18% to 55%. .4 points.]
4. Confiscation of the property of all emigrants and rebels.
[No check. 0 points.] (See * below.)
5. Centralization of credit in the banks of the state, by means of a national bank with state capital and an exclusive monopoly.
[Check: Federal Reserve, US Treasury. 1 point.]
6. Centralization of the means of communication and transport in the hands of the state.
[Partial check: roads, airspace; controls on riverways, telecomm. .5 points]
7. Extension of factories and instruments of production owned by the state; the bringing into cultivation of waste lands, and the improvement of the soil generally in accordance with a common plan.
[Partial check, but very hard to measure rates of state-ownership or regulations in research, manufacturing, and agriculture. .5 points.]
8. Equal obligation of all to work. Establishment of industrial armies, especially for agriculture.
[No check: though suggestions of mandatory volunteerism and national service. 0 points.]
9. Combination of agriculture with manufacturing industries; gradual abolition of all the distinction between town and country by a more equable distribution of the populace over the country.
[No check. 0 points.]
10. Free education for all children in public schools. Abolition of children's factory labor in its present form. Combination of education with industrial production, etc.
[Check. 1 point.]
Total: 5 out of a possible 10 points.
Workers of the world, rejoice! We're halfway there!
* Update: Neil Baxter informs me of new exit taxes for US expatriates, and Jeff Perren argues nicely that this ship has sailed too. So this should be a partial check, and we're over 51% there.