Creativity and the self-directed muse
I like this from Jeffrey Davis: "Creativity is not about waiting for the muse. Creativity is about showing up and shaping time for the muse."[1]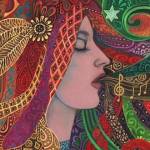 Reminds me of this exchange between a St. Petersburg journalist and Tchaikovsky about his work habits:
T: "Once I have settled in Petersburg, I shall continue to work, as before, from ten to one o'clock and from five to eight, and then spend the evening with friends."
J: "You work six hours a day!"
T: "Without fail, every day."
J: "But what if you don't feel the desire or ability to work?"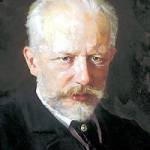 T: "Then I force myself to feel that ability. Nowadays young people wait for inspiration before setting to work, but I consider this quite mistaken. Could Mozart, who died at such a young age, have written so many marvelous works if he had constantly been waiting around for inspiration?"[2]
Sources:
[1] Jeffrey Davis, 11 Riffs on Creativity & Time, October 15, 2012.
[2] Quoted in Alexander Poznansky's Tchaikovsky Through Others' Eyes (Indiana University Press, 1999), p. 209.
The portrait of Tchaikovsky was painted in 1893 by Nikolai Kuznetsov.