Previous Post:
Philosophy and Film Series: Blade Runner
&nbsp Next Post:
Philosophy of Business: William Kline interview
Prompted by Eduardo Marty's link to this discussion of postmodernism and libertarianism, here are updated links to my 1999 cyberseminar on The Continental Origins of Postmodernism, conducted while I was on sabbatical and Scholar-in-Residence at the Atlas Society.

Abstract for the course: For this 1999 online seminar "The Continental Origins of Postmodernism," TAS Director of Programs Will Thomas served as moderator. Stephen Hicks, Professor of Philosophy at Rockford College, served as the scholar-in-residence. Participants read key works in the development of Postmodernism, to understand the origins of this powerful trend in contemporary thought and to develop the background of an effective Objectivist response. "Postmodernism is influential in contemporary academic and intellectual culture," Hicks remarked. "But most of us are trained in the analytic tradition, so we are less likely to be exposed to the major postmodern thinkers. The purpose of this seminar, accordingly, is to broaden our knowledge of the current intellectual landscape by exploring the distinctively postmodern content, method, and style of philosophy."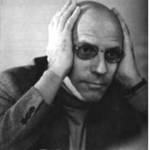 Essays and discussion on:
Defining Postmodernism.
Martin Heidegger.
Jacques Derrida.
Michel Foucault.
Richard Rorty.
Participants in the seminar: Melinda Ammann, William Dale, Roger Donway, Shawn Klein, Jamie Mellway, Eyal Mozes, David Potts, David Ross, Bryan Register, Will Wilkinson, Jason Walker, Michael Young, Susanna Fessler, David Kelley, James Lennox, Ken Livingston, Rick Minto, Kirsti Minsaas, and Susan Dawn Wake.
Related: It was at TAS that year that I wrote the first draft of my Explaining Postmodernism: Skepticism and Socialism from Rousseau to Foucault.
Tags: Bryan Register, David Kelley, David Potts, David Ross, Eyal Mozes, Jacques Derrida, Jamie Mellway, Jason Walker, Jim Lennox, Ken Livingston, Kirsti Minsaas, Martin Heidegger, Melinda Ammann, Michael Young, Michel Foucault, postmodernism, Richard Rorty, Rick Minto, Roger Donway, Shawn Klein, Susan Dawn Wake, Susanna Fessler, Will Thomas, Will Wilkinson, William Dale