Previous Post:
Conflicts of interest: physicians and financiers example
&nbsp Next Post:
Kaizen 23 — the William and Wilson Ling interview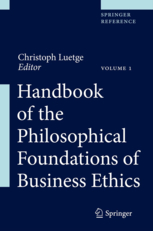 I contributed the "Entrepreneurship and Ethics" chapter to editor Christoph Luetge's Handbook of the Philosophical Foundations of Business Ethics (Springer Science+Business Media, 2013).
Abstract: Much of the current business ethics literature takes corporations and social responsibility as its key operative concepts. Meanwhile, much of the business and economics literature is moving to seeing entrepreneurship as a foundational activity. In this chapter I argue that business ethics should be re-focused away from corporations and the social and towards entrepreneurs and the individual.
The volume is available for sale and online to those with subscriptions to Springer's book and journal publications.
Related:
Stephen Hicks, "What Business Ethics Can Learn from Entrepreneurship" [at SSRN].
Tags: Christoph Luetge, entrepreneurship and ethics