Previous Post:
Steve Jobs on creative integrity
&nbsp Next Post:
"Entrepreneurship and Ethics" chapter published
An interesting paragraph in The Wall Street Journal about perceptions of conflicts of interest:
"In a recently published study, researchers led by behavioral economist George Loewenstein of Carnegie Mellon University asked hundreds of physicians and financial planners to evaluate conflict-of-interest policies.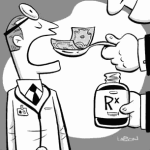 Half of each group read a set of proposed rules to minimize conflicts for doctors; the other half saw almost-identically worded rules to reduce conflicts for financial planners. The doctors were outraged that financial advisers might accept pens, coffee mugs, free meals or educational junkets from investment companies. Yet the physicians rejected the idea that accepting pens, coffee mugs, free meals or educational junkets from drug companies could ever compromise the integrity of doctors."
Setting aside the question of whether such gifts are problematic, I wonder what went on in the minds of the physicians who made this sort of judgment. Was it:
1. General bias against financiers? I think doctors in general have integrity but financiers don't.
2. Healthy self as test case? I am a physician and I have integrity so the gifts don't affect my judgment, but I'm not as confident of others' integrity.
3. Particularized and/or concrete-bound judgment only? I see how the gifts could be problematic for financiers, but I don't abstract to the general principle of gifts being problematic for any professional.
Other possibilities?
Source:
Jason Zweig, "Conflict of Interest? Moi?" The Wall Street Journal, October 5, 2012.
Tags: conflicts of interest, George Loewenstein, Jason Zweig