Previous Post:
Mao on selflessness and collectivism
&nbsp Next Post:
Frederick Douglass and Ayn Rand
"Do unto others as you would have them do unto you."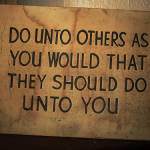 But what if you're a masochist? As a masochist, you would have people beat and humiliate you. So …
Or you have a troublesome colleague, and on some days you just wish someone would smack some sense into him. So you go around smacking sense into others' troublesome colleagues.
A heuristic like the Golden Rule helps to concretize abstract moral principles by personalizing them. But how well the personalizing works depends on whether the person is already morally healthy. And for that, one needs ahead of time principles by which to judge moral health.
The abstract principles are, for example: Deal with others justly. Treat people with civility. It is cognitively helpful to imagine how one would feel if one were dealt with unjustly or uncivilly and, consequently, to understand how others would feel if dealt with that way. Golden rules are useful guides to going through that process. But the validity of the abstract principles depends on their actually being good for you and others, not on how they make you feel.
In philosophy-speak: Moral principles should be based on objective value, not subjective feeling; and while principles should be personalizable, they should not turn on whatever character a person happens to have.
Source: Matthew 7:12.
Tags: moral reasoning, The Golden Rule