Previous Post:
Jean-Paul Sartre's answering machine
&nbsp Next Post:
Atlas Shrugged outing for Rockford College students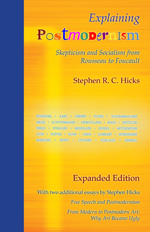 My Explaining Postmodernism: Skepticism and Socialism from Rousseau to Foucault is to be published by a firm in Tehran. I've heard from Iran that the translation is done and the book is ready for printing.
One more step is necessary: the issuance of a publishing license from the state.
So the manuscript has been submitted for approval to the Ministry of Culture and Islamic Guidance.
That last sentence — I have difficulty wrapping my mind around it.