A quotation about this academic, who lived a long, comfortable life in England justifying the theory and practice of communism.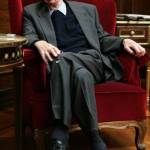 "In 1994, he shocked readers of the Times Literary Supplement when, in an interview with Michael Ignatieff, he said that the deaths of millions of Soviet citizens under Stalin, although 'probably excessive,' would have been worth it if a genuine Communist society had been the result."
Sixty million killed in the Soviet Union alone. Hundreds of millions of lives made miserable there.
Probably that was excessive? And it would have been worth it if Hobsbawm's political ideas had resulted?
Who is more evil — killers, or those who enable and justify the killings?
Sources:
New York Times, "Eric J. Hobsbawm, Historian With a Communist Resolve, Dies at 95."
Photo: Roland Schlager/European Pressphoto Agency.
Thanks to R.M. for the link.
Update: Michael Moynihan, "How a True Believer Keeps Faith", The Wall Street Journal, August 20, 2011. And A. N. Wilson, "He hated Britain and excused Stalin's genocide. But was he a traitor too?" Daily Mail (UK), October 3, 2012.