Previous Post:
Upcoming talk at Representational Art Conference, Ventura
&nbsp Next Post:
Were the Modernist painters misogynist?
Wade Guyton uses a computer printer to generate long strips of linen with red and green stripes. And he is the subject of a positive profile in The New York Times.
Guyton says this about his training: "I never really enjoyed drawing or art classes."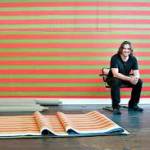 And about his inspiration: "I realized that the process of drawing didn't make sense to me. The labor didn't match up to what I was trying to do. And I thought the printer could make these things better than I could."
About the stripes: "It's interesting for me to take something so insignificant and minor and affectless on its own and let it permeate in many different ways."
Andy Warhol's support is enlisted: "Warhol, after all, said: 'Paintings are too hard. The things I want to show are mechanical. Machines have less problems.'"
A fellow artist gushes: "I was blown away. I must have gone back three or four times. I particularly admire the way he repeats motifs with just the slightest changes."
Mistakes occurred in the making: "The largest of [the red-and-green striped canvases] — stretching 50 feet — has noticeable red smears of ink and the illusion of folds where the stripes were printed off-register … . 'It would be wrong to have tried to correct these things,' Mr. Guyton said."
A learned professor helps us understand: "People tend to misread his work. They see it as only bound up with media and technology but it's actually another version of the de-skilled, ready-made work."
Indeed.
Source: Carol Vogel, "Painting Rebooted," The New York Times, September 27, 2012. Viewed October 1, 2012. Thanks to J. G. for the link.
Tags: Andy Warhol, machine art, mechanical art, postmodern art, ready-made art, Wade Guyton