Previous Post:
Libraries discriminate against the blind
&nbsp Next Post:
Ronald Hamowy, R.I.P.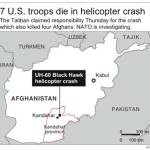 Years: Number of US troops killed
2001-2004: 161 deaths
2005-2008: 469 deaths
2009-2012: 1,484 deaths
Why the lack of attention to the rising death toll? Is the nation war weary? Or merely uninformed? If uninformed, have the media decided the war is less newsworthy? Or less objectionable? Where has the anti-war movement been the last few years?
Meanwhile last month in Afghanistan: "Taliban swoop on party and behead 17 for dancing: Women among victims killed for breaking 'law.'"
Tags: Afghanistan war, anti-war movement, media ethics, Taliban