Previous Post:
The war death toll in Afghanistan
&nbsp Next Post:
Which leftist said this?
Ronald Hamowy has died. He was a student of Friedrich Hayek's, educated at the University of Chicago, historian, libertarian, Cato fellow, and emeritus professor at the University of Alberta in Canada.
I knew him slightly as my editor when I wrote the article on "The Enlightenment"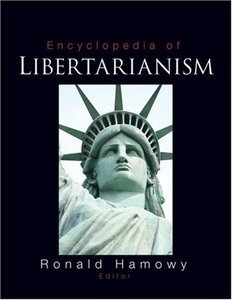 for The Encyclopedia of Libertarianism, which he published with Sage and Cato in 2008.
Stephen Cox and Bryan Caplan have penned remembrances. (Update: David Boaz's remembrance.)
Hamowy had a vigorous mind and a productive career. For a sample, here is Hamowy's critical summary of modern American conservatism's key tenets (from 50 [!] years ago):
"They may be summed up as: (1) a belligerent foreign policy likely to result in war; (2) a suppression of civil liberties at home; (3) a devotion to imperialism and to a polite form of white supremacy; (4) a tendency towards the union of Church and State; (5) the conviction that the community is superior to the individual and that historic tradition is a far better guide than reason; and (6) a rather lukewarm support of the free economy."
Interesting that the same tensions between libertarians and conservatives exist over half a century later.
Source: RONALD HAMOWY AND WILLIAM F. BUCKLEY, Jr., "'National Review': Criticism and Reply," New Individualist Review, Ralph Raico, editor, 1961.
Tags: Bryan Caplan, David Boaz, Encyclopedia of Libertarianism, Jr., RONALD HAMOWY, Stephen Cox, WILLIAM F. BUCKLEY