Previous Post:
Upcoming talk at Representational Art Conference, Ventura
&nbsp Next Post:
Ronald Hamowy, R.I.P.
Entrepreneurship and MBA Education
The first issue of Kaizen for this new academic year features my interview with Jeff Sandefer.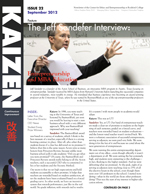 I met with Mr. Sandefer in Austin, Texas to discuss his meteoric entrepreneurial career in oil and gas and his ambitious plans for MBA education.
Also featured in this issue of Kaizen [pdf] are student essay contest winners Megan Hopwood and Carly Stokstad, Walhout Prize winner Brandon Jacobs, and guest speaker professor Tara Smith from the University of Texas at Austin.
Beautiful print copies of Kaizen are in the mail to CEE's supporters and are available at Rockford College.
Our next issue will feature an extended interview with Brazilian entrepreneurs William and Wilson Ling.
More Kaizen interviews with leading entrepreneurs are at my site here or CEE's site.
Tags: Brandon Jacobs, Carly Stokstad, Jeff Sandefer, Megan Hopwood, Tara Smith, William Ling, Wilson Ling