Previous Post:
Crank economics and astrology in Bolivia
&nbsp Next Post:
Libraries discriminate against the blind
A question for those who know the great Ludwig von Mises's work better than I. Are the following two statements, both from Liberalism, consistent with each other?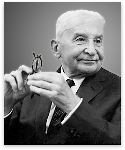 "I am not an 'enemy of the state' any more than I can be called an enemy of sulphuric acid because I am of the opinion that, useful though it may be for many purposes, it is not suitable either for drinking or for washing one's hands" (p. 38).
"All state activity is human action, an evil inflicted by men on men" (p. 57).
Source: Liberalism: A Socio-Economic Exposition, translated by Ralph Raico and edited by Arthur Goddard. Kansas City: Sheed, Andrews, and McMeel, 1962, 1978.
Tags: Ludwig von Mises, necessary evil